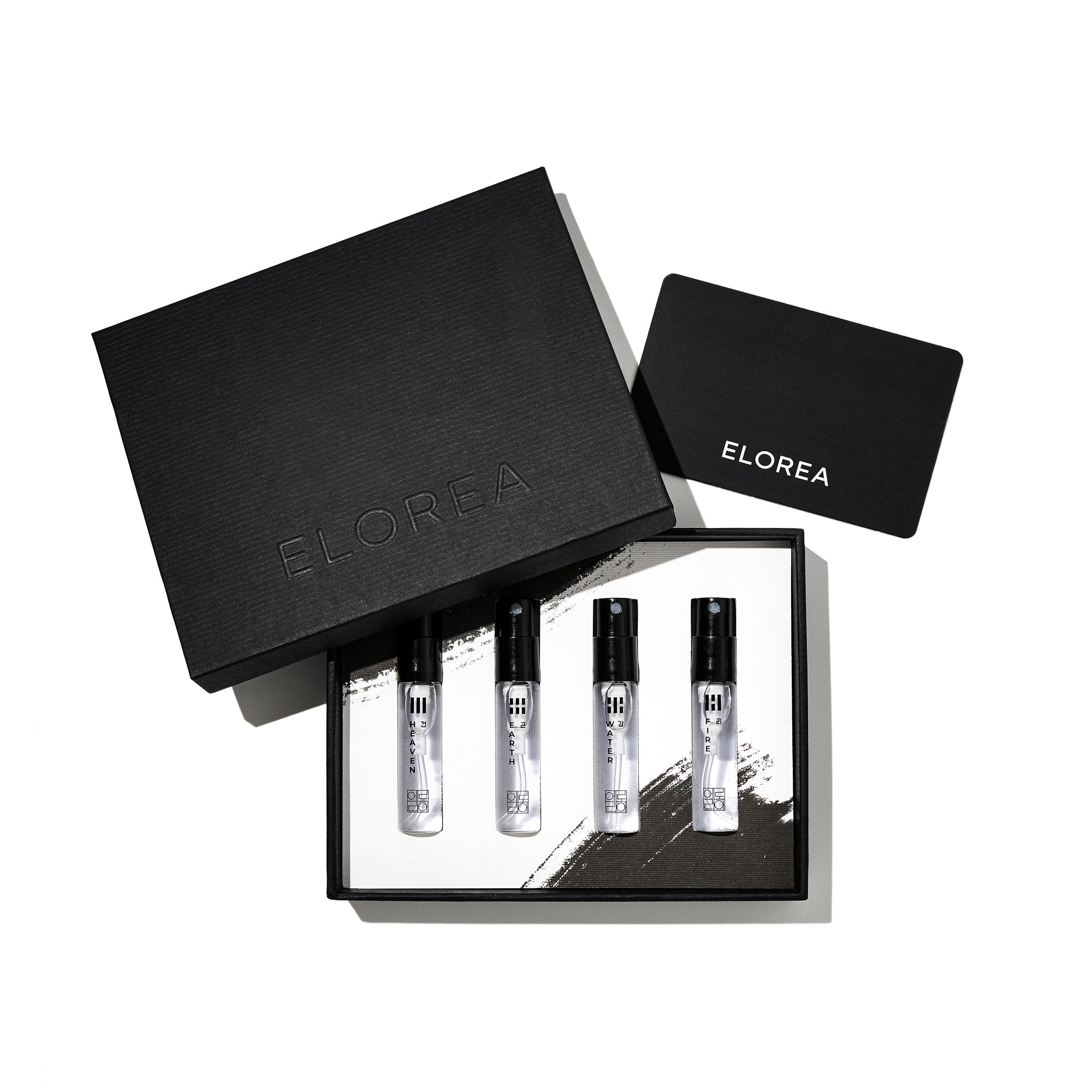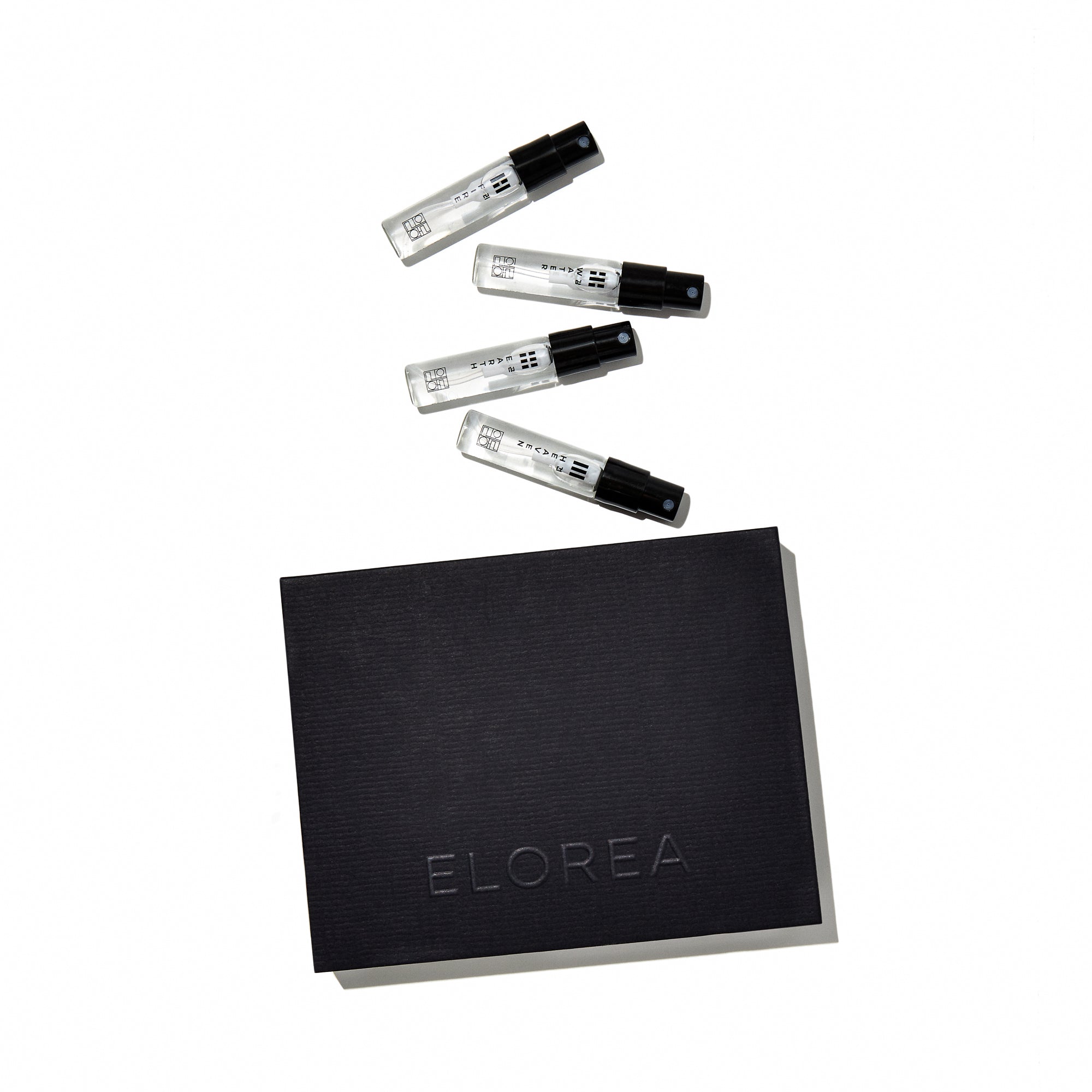 The Elements Discovery Set
Your Discovery Set comes with a $33 Gift Card that can be used towards any 50ML or 100ML bottle, ensuring a virtually risk-free experience.
Description
Notes
Ingredients
Discover our unique signature eau de parfum collection, The Elements. The Elements collection is inspired by each trigram on the South Korean national flag, which collectively represents the four elements of the world.
Each fragrance was made in Korea using ingredients sourced from various regions of the country.
Assembled in the United States.
---
What's included?
4 x 2 ml vials of The Elements collection: HEAVEN, EARTH, WATER, and FIRE
$33 gift voucher to use towards any 50ML or 100ML bottle*
Detailed informational packet on each scent
*Multiple vouchers can not be combined in the same order.
*Some sediment or slight color variations may occur due to the use of natural ingredients. This is a natural occurrence and not a defect.
HEAVEN/ 건 [floral]
TOP / Boseong Green Tea, Bergamot, Pink Pepper
HEART / Rose, Jasmine Sambac, Freesia
BASE / Patchouli, Amber, Musk, Vanilla

EARTH/ 곤 [woody]
TOP / Cardamom, Ginger
HEART / Pyeonbaek Wood, Iris, Violet
BASE / Leather, Sandalwood, Vanilla

WATER / 감 [fresh]
TOP / Bergamot, Upcycled Mandarin, Lemon, Neroli Bud
HEART / Jasmine, Jasmine Sambac, White Rose
BASE / Pyeonbaek Wood, White Musk

FIRE / 리 [warm]
TOP / Lime, Lemon, Elemi, Lavender
HEART / Iris, Violet, Camellia
BASE / Leather, Amber, Roasted Tonka, Sandalwood, Akigalawood
HEAVEN/ 건
ALCOHOL DENAT., AQUA / WATER / EAU, FRAGRANCE (PARFUM), COUMARIN, LIMONENE, FLOROL, LINALOOL, GERANIOL

EARTH/ 곤
ALCOHOL DENAT., AQUA / WATER / EAU, FRAGRANCE (PARFUM), ALPHA-ISOMETHYL IONONE, FLOROL, CYPERUS SACARIOSUS ROOT OIL, GERANIOL

WATER / 감
ALCOHOL DENAT., AQUA / WATER / EAU, FRAGRANCE (PARFUM), BENZYL BENZOATE, FLOROL, BERGAMOT, LEMON OIL

FIRE / 리
ALCOHOL DENAT., AQUA / WATER / EAU, FRAGRANCE (PARFUM), ETHYL LINALOOL, D-LIMONENE

Paraben, Phthalate, Sulfate Free & Cruelty Free

The Elements Discovery Set
FAQ
Is it vegan?
We do not use any animal derived materials in any of our products. Our packaging is made with vegan leather and leather like paper. The foam insert is also made with biodegradable material. The box is also sturdy and high quality, which you can repurpose once you remove the foam insert.
How do I store my perfume?
The perfumes should be stored in a dark, cool place, away from direct sunlight and heat for maximum shelf life. 
How can I try the scents?
Experience the full collection with the purchase of our discovery set. Every discovery set comes with a voucher of equal value ($33), which you can use towards a full bottle purchase. It can be applied to either 50ml or 100ml. Please note that this voucher cannot be combined with other promotions. This voucher only works online at Elorea.com and will expire in 30 days from the date of purchase.
Disclosure
We produce our fragrances in small batches which may cause slight variations between each batch. Differences in harvests of natural materials throughout the year and the environmental conditions can also alter the smell slightly. We hope this information speaks to the quality and care of our line and our commitment to providing you with exceptional products.
How do I contact customer support?
Please email us at hello@elorea.com
Shipping/Returns
Shipping
Standard shipping is free on all US orders over $50.
Need your order sooner? We will expedite your shipment for $40.
Return Policy
Sales are final.
Because of the risk of tampering, we do not accept returns on our fragrances. If there are defects or problems with your order, please contact us at hello@elorea.com and we will be happy to help. 
Please try our products before committing, via our discovery set.
International Shipping
Unfortunately, we only ship to customers based in the United States and Canada at this time.
We apologize for any inconvenience.